Psychic Spirit In You
What Spirit says about Wealth, Prosperity
Abundance and Self Worth
If prosperity is missing or not where you want it to be is because there are some limitations, belief systems and blocks that prevent you from achieving Success.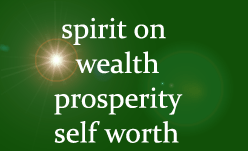 Money is an Energy that needs to be cultivated.
True prosperity has to do with being creative and passionate rather then being competitive. This way we not only create Wealth but also grow our souls.
The old paradigm and old energies of money based on greed and enslavement is not working anymore.
There are NEW ways and we have to learn how to tap into the NEW Energies of Abundance and Prosperity. 
So Why is Important to Cultivate Abundance?
"The purpose of nature is the advancement and unfoldment of life; and every man should have all that can contribute to the power; elegance, beauty, and richness of life;" – Wallace D. Wattles
Spirit wants to make sure we GET IT!
And there's more to come…
So make sure you enter your email address, and sign-up for Psychic Spirit In You Updates