Psychic Spirit In You
How To Develop Intuition and
Psychic Awareness
Intuition is knowing what you need to know when you need to know it.
Psychic Awareness is understanding of human consciousness and the full potential of the mind.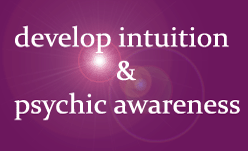 Intuition and Psychic Awareness are designed to be part of our life in order to evolve as human beings, expand and grow our souls.
We are conditioned by society to operate from our linear mind mostly, that's why we are disconnected from Nature, Divine and Higher Selves.
So Why is Important to Develop Intuition and Psychic Skills?
Here are some of the few BENEFITS:
Reduce Stress identifying and dealing with problems more efficiently
Make better, heart-based decisions
Show us the best route where we need to go
Save confusion, hassle, even lives
Maximize creativity and Imagination
Improves emotional, mental and physical health
Unfold hidden truths about our self and situations in our life
Asses people, events, circumstances in our lives more effectively
… and More…
Where to Start?
And there's more to come…
So make sure you enter your email address, and sign-up for Psychic Spirit In You Updates