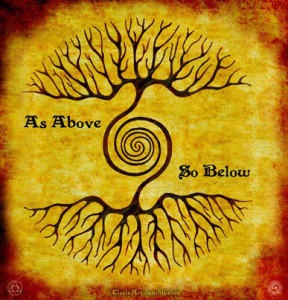 "As above, So below"
Whatever happens out there in the Universe has an impact on our personal life /psyche and vice versa: what happens in our individual lives has a direct impact out there in the world.
Similarly, the "As within, So without" also expresses our inner self connection and impact on the Higher Self, Divine, Source and vice versa.
We are One: one with each other, one with the trees, One with the mountains, One with the earth, One with the Ocean, One with the little critters, birds, and so on and when we truly get it deep within our cells, then most probably Ego has gone through a deep, deep healing process and transformation and ultimately LOVE has won.