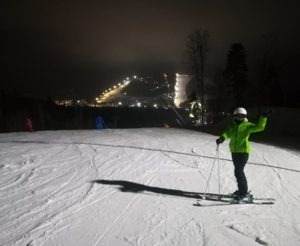 "What would you do when you want to go skiing so bad!!!!! but you have a cold, sneeze like a kitten and your head feels like a heavy pumpkin on your shoulders?"

I asked the above question on my social media page .
As I love Nature so much, I developed such passion for skiing.
Many of people who know me are familiar with my orgone work.
I travel and gift orgone to locations that need it.
Orgone Energy not only transmutes negative energy to positive energy, neutralizing the bad EMF's but is also a great tool for assisting humanity with mass awakening (a thing that I am very passionate about).
So as I was doing some cleansing spiritual work with orgone in Ukraine, I took advantage of the weather and went skiing.
The Whiteness of snow takes me to another state of consciousness fast.
It is so calming and purifying. It feels like everything slows down and impurities are being cleansed.
But …. After a few days of skiing I got the flu! Ohh no!
So late at night my partner asked if I was going to ski the next day.
So I said: I will know tomorrow morning how I feel.
The next morning I didn't feel any better but decided to go.
I wasn't feeling beat up, just weak.
I went on FB and asked the question.
And of course got quite a few responses.
People are awesome! I love empathic people who want to help out.
Some said Yay, some said Nay!
So here are a few responses:
"Go ski. Joy will cure you"
"Sauna sounds good too! Feel better. "
"No colds no flu shall ever stop what I am doing good company fun laughing "
"…I chose the latter get vicks inhaler take some pain relief ie: gin and rhubarb juice and skiing lulu awesome x"
"I'd go I mean lol sneezes or not …life is for living after all wrap up, get vicks inhaler …Problem solved x"
"GO!! My way of thinking is its way more fun to go out feeling shitty and enjoy yourself than to stay home and feel worse than shitty! Sweat that out of you!"
"Here's the rule: if you're sick from the neck up, hydrate lots and sweat it out.
If you're sick from the neck down, you may have the flu and you need serious rest.
Take care "
"Not a good idea to go skiing when you feel like that especially with your head"
"Bundle up and get going!"
"Take a shot of Jagermeister and go skiing anyway!"
"I create Sacred Space for healing and ask, what is it that needs to be cleared?"
"maybe cozy-up in bed and daydream!"
So this is what I did:
Bundled up and went skiing!!! Lol
It was around a powerful full moon and I instructed my orgone necklace to help me with extra boosting energy. It did!
I got enough strength to enjoy my day of skiing.
I think it is a matter of how you really feel in the moment and listen to your inner voice.
There is a time where you need to rest and there is a time when you need to push forward.
Flu is testing if our immune system is working.
Getting a flu or cold is not always a bad thing.
It can make us stop and think, rethink about our health, our nutrition, our spiritual practice.
Have we ignored it lately?
Flu offers an opportunity to get rid of toxins, garbage, mucus, even critters like fungus and bacteria while we renew and boost our immune system.
It gives the opportunity to bring the entire system back into balance.
The detox left me with so much energy.
After I got rid of the flu, I got compliments on how good I look. 🙂
Stay healthy, detox and be happy,
Lilly

May we suggest:
| | | | |
| --- | --- | --- | --- |
| | | | |
| Confidence Orgone Pendant | | | |