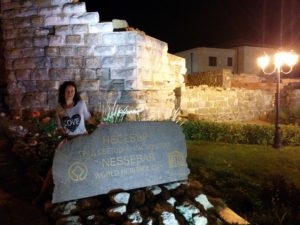 No secret: we are in a spiral of continuous shifting.
The next layer of shifting in human consciousness surfaces out of separation/division of worlds.
Wisdom comes from understanding and mastering duality.
From Duality consciousness evolves and healing happens.

Many of you know about my passion of traveling to sacred locations.
(watch video below)
This summer Spirit guided me to Bulgaria in the old town of Nessebar.
We got there in the afternoon.
There were still tourists visiting the old town so we chose to have dinner overlooking the beautiful black sea.
After the crowds dissipated I started the sacred scouting.
We found the ruins of what looked like a very ancient church.
I felt like a kid: so excited to have discovered a mysterious place that emanated spiritual power.
I was like: what is this??!!!
I heard some giggles and followed the giggles.
There were kids playing and taking "selfies" where the altar once was.
Suddenly I felt heat and I thought there must be a steam bath or hot spring around.
I climbed the stairs of the altar, curiously looking for where the heat was coming from.
As I was approaching the main altar the heat was increasing.
I was really expecting to see hot springs. I could swear that there were hot springs. I touched the stones and they were emanating heat.
I felt heat all over my body.
So much Energy in the form of fire element!
Spirit warns us about the element of fire.
We need the balance the fire; if we don't know how to handle it we either get 'burned out' or have a 'heat stroke'.
The church is located at the center of the ancient city and it is a strong vortex of energy.
Vortexes of energy speak to us in profound ways.
I was called to this place to discover the ancient knowledge that wanted to surface during these times and share it.
As I was tuning into this vortex I looked around and saw two women who were touching the stones. They were so graceful or at least their energy read grace that I thought they were ancient Goddesses .
I realized I was not alone. We are never alone. More sisters are called to spread the sacred message of Sophia.
Sensitives and Earth Angels are called to bring back humanity into balance.
There is division between male and female, left and right, yin and yang.
Women need to work on bringing back common sense and balance through wisdom and harmony not by channeling anger.
Anger has its place because anger makes things move around, but anger can be destructive when becomes excessive.
We have to tap into the wisdom of Sophia to channel strength through compassion and wisdom. We need heart and mind cooperating.
At first I didn't know what this place was.
I usually get called by Spirit and later find out why the call.
As you leave the ruins there is some information about this place and I found out those were the ruins of St Hagia Sophia Church. Whoa!
Immediately my mind connected this place with Hagia Sophia in Turkey we visited a few years ago.
Sophia!!! The Goddess of Wisdom and Rebirth!
Hagia Sophia means Holy Wisdom!
This is exactly what humanity needs right now in order to ascend: Holy Wisdom!
Sophia
Nessebar one of the oldest towns in Europe and holds the spirit of different ages – Thracians, Hellenes, Romans, Slavs, Byzantines and Bulgarians.
The heat I was experiencing got my attention because we are experiencing so much heat between masculine feminine.
It is a battle since ancient times that is taking place between both energies. And this is happening within us.
As I travel through the world I still see in the eastern countries the domination of patriarchy.
At the same time I see in the western society angry women propagating division and hatred towards men.
There are feminist programs out there that promote "the feminine", we must be very careful not to fall out of balance by dominating or ruling man.
Sad but true. Fortunately there is an awakening happening to heal this division.
We are reminded to remain grounded and aligned with Gaia-Sophia, the divine being embodied as the Earth.
We are reminded about respect: a true wise woman who knows how to honor and respect a man and a man who knows how to honor and respect a woman. And it all comes down to respecting and honoring yourself first.
Humility is the highest form of wisdom.
Sophia is described as pure spirit, the wisdom of God, the feminine aspect of God.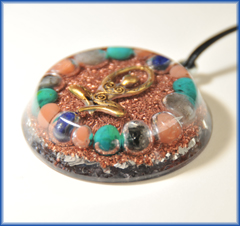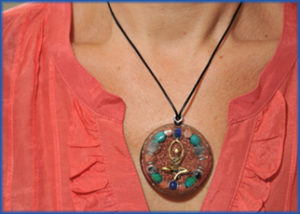 Divine Feminine Orgone Pendant

It has been such a crazy ride since the presidential elections in the USA.
The dirty ego battle between the feminine and masculine is sort of insane.
It has been going on for eons, now it has come to the surface in order to heal and bring closure.
I say let the man be a man and let a woman be a woman. Equality yes, in the highest sense of the word.
Sophia teaches not to eat our truth by either remaining silent or getting angry out of control.
Instead tune into the heart, tune into your intuition, focus on solutions, find your compassion and operate from there.
The feminine pain is getting healed by going though and honoring the pain making sure we are not becoming the pain.
A wise woman will serve, will heal, will bring harmony and peace, and will embody compassion and grace.
It is time for the feminine to regain its true power.
Feminine was suppressed for so long. The only way to heal the feminine however is by being assertively compassionate and not angry out of control.
By being angry at men and preaching anger does not make us more spiritual as women.
We are all on our journey and it is the same journey of evolution and growing our wisdom. However we are at different levels.
We have to be very discerning.
Human society is controlled by a force that is non human.
The dark side knows how to manipulate, they use truth concepts such ONESS which is the universal truth but they use it to create the ONE world government to submit us into total control.
Feminists vs sexists, men vs women, gay vs straight and so on. It's all a manipulative game.
Matriarchy is no better than patriarchy.
The answer is the marriage between the two which creates life, creates the ONE.
This kind of suppressed feminine energy is still present and trapped in many sacred locations of the world and needs women to free it.
The information needs to be brought to people and shared it with wisdom.
Like the prophecy of many native nations of the condor and eagle:
When the condor (feminine energy) and the Eagle (masculine energy) fly together freely in the sky there will be peace.
Our global consciousness is rising to new levels and although at times it seems like we are going nowhere, we are in fact growing towards the light…
The wise woman, the Sophia God Frequency knows how to calm the rage.
Woman of Peace take War from the world.
To you lioness of courage, Woman of grace and love this song is yours.
Andromeda
So during my visit to Nessebar I heard the words "Andromeda", Jupiter, Sirius.
In fact the entire day I was just getting the word "Andromeda".
The name of the restaurant we dined is Andromeda.
Andormedans are assisting humanity with Ascension on Earth.
I got some concerns from the Andromedans about our earth movement and shift due to crazy frequencies created by angry humans fighting each other.
Not all extraterrestrials have our best interest at heart and open contact with them requires discernment. No one can save us but us, we have to become responsible, work on ourselves, our introspection and spiritual evolution.
Taking a deep breath and allowing and understanding our so called "enemies".
The dark forces that are behind the global control play humans against each other and manipulate us into division. Our duty is to forgive and understand one another.
Be more compassionate but at the same time be discerning so we don't fall into their manipulative games.
Eyes wide open!
Planet Jupiter showed up on my journey so strongly as well so I want to share a few positive aspects of Jupiter with you.
Even if you know them say them out loud and own them, own the energy…
Luck, hope, faith, expansion, success, optimism, development, wisdom, sincerity, compassion, trust, confidence, generosity.
Blessings,
Lilly

May we suggest:
| | | | |
| --- | --- | --- | --- |
| | | | |
| | | Protection Orgone Pendant | |