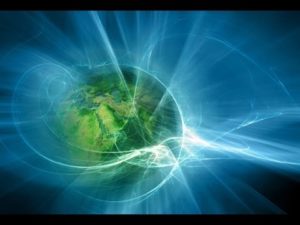 "And the Powers of Heaven will be Shaken."

~ Namaste,

This is what I shared in one of my latest newsletters:

"What is happening with the US presidential candidates is a reflection of our collective consciousness. They play a role to awaken our shadows. Truth about illusion and deception are surfacing. We are distracted and mainstream media does its usual job of manipulating the world into choosing division and separation over unity and love.
This is profound. Awakening is happening, Truth is surfacing.

The prophetic dream that I had a few weeks ago (I shared in one of my latest newsletters) shook my ego, shook my very essence.
I saw this coming… in my dream
"And the Powers of Heaven will be Shaken."

Information received: "do not be afraid instead be concerned about what is going on in the world."

Things that we don't know will surface and that will affect the entire world.
Filter the information that is being fed to us and rely on intuition as truth.

Now who wasn't shocked with the election results?

Saying it humbly, I saw it coming but couldn't share it.

I get emails from sad, confused or angry people who ask me how in the world we have manifested this election results?

There is fear, despair, and a lot of negativity happening in the collective conscious right now. But REMEMBER that all of this is happening in the 3rd dimension.  In the 5th dimension the world is a different world that works for everyone and it is based on Light and Unity and Love.

At the same time in the higher dimensions there is MASSIVE Awakening happening with a great amount of light piercing the veils of negativity and illusion.

Many see it very clearly, however for those in a fearful, negative mode it is very hard to see it. Fear vibrates extremely low on the consciousness scale.

I know what fear is because I was there and at times I still flow through it.  We are humans and ego doesn't exempt us from it. Ego is part of us being human.

What changed the entire fear negative game for me was a deep feeling of knowing that everything will be just fine and trusting and having faith in the Higher Power.

The dream that I had regarding a prominent figure looking at me with piercing eyes that shook my entire ego, made me see things differently, through the lenses of truth.

I am inviting you to do the same.
Do your inner work, chakra work, grounding work, heart work, forgiveness, whatever it takes to step into your powers and not allow negative emotions to control you.

What intrigues me that a lot of spiritual people, even teachers that I know, fall for negativity and add this disempowering energy to this vortex of negativity due to the fact that are ungrounded.

In the messages I get daily, I get reminded of the controlling energies that prevent us from being happy.  If ego rules we cannot be happy.

The old system is crumbling, I have been saying this over and over for many years now, yet it's hard to grasp the concept.

Dec 2012 was the beginning phase.

And this happens for a great reason, to take power in our own hands, moving away from systems that enslave us instead of empowering us.

Some people are shocked where others are seeing it very clearly.

There are people who are not aware of this awakening or refuse to awaken due to personal suffering, trauma that is happening in their lives.

Healers, lightworkers, earth angels, humans with a beautiful heart, I ask you not to add to the suffering.  Instead Assist and help others who go through emotional suffering.

We are on this planet to assist and help each other, to lift each other up. Chose Love over hatred and fear.

Many people know me for working and creating orgone for many years (more than 12 years now) and know my connection with orgone.

Orgone is a tool of awakening.

Spirit guides Constantin and I to go on orgone gifting missions. These are in fact visits to sacred places on earth. We place these orgone gifts in strategic locations like vortexes, ley lines etc.

I truly believe a mass awakening is happening as a result.
All the orgone gifts spread around the world communicate with each other and create a grid of Spiritual Power that allows the Light to penetrate our beloved planet.

Saying this, if you have our orgone gifts connect them consciously via your thoughts with all the orgone gifts  in the world. I truly believe Orgone/Orgonite is one of the main tools, along with crystals that has been gently, steadily, powerfully and gracefully assisted with the mass awakening.  When we wear our orgone pendants we become orgone (life force) generators.

Those who seek to keep us in low vibrations prevent us from seeing the Light and Truth.
The 11-11 portal that is happening (happened) on Nov 11 is about the explosion of light and truth.  
Even if it looks like we live in a world of division and separation,  the "11-11" portal brings Unity.

If you prepared yourself energetically by being grounded, being in your heart, being a true seeker and having faith you are not suffering.

Light is our friend, but if we refuse to see it, we sink into the darkness, we let negativity take over. And then we really need to work hard to learn what we need to learn.
We can choose as humanity to see this situation as a curse or as a blessing.  We are not our emotions.

For life times now we looked at life through filters. Now in a long time we see through lenses of truth.

Division, anger , shock, lead to huge awakening. Chaos precedes change. Chose Love. Remember the ones that are in charge of the energies of the planet are of Light.  There is a Movement that is happening on the planet and the Universe. It is a Movement of Truth and Love and Unity.

Mama Earth is saying Wake Up!

Tune into the highest awareness as veils have been lifted.

We are called to assist, we are called to help, we are called to support others who need our help, who need our prayers, who need our healing energy. We are called to help anchor these new energies that are of light, that are positive that will help create peace and prosperity on Earth. It is Time!

The seeds of positivity have been planted.  
Have the courage to look within and have faith, have trust in the higher Power.
Something big has opened up: a major portal of awakening and remains open as – we continue to awaken. Trust your Intuition as this is Massive and extremely Positive.
Have faith!

I would love for you to say these words (or similar in frequency) out loud to yourself.
Say it with passion and faith.
"I have faith. Everything is going to be okay.
I trust that the world is going to be an awesome world and I chose to be part of it."

So be it, Aho,
Lilly

In my latest newsletter I shared about the 3 Archangels that were celebrated on the election day: Michael, Gabriel and Raphael.
And Archangels are known as the "Special Forces" of the Angelic Realms.
They work constantly to help humanity awaken its spiritual powers to improve life.

Call upon them and let them help you.

The Empowerment "Loop of Awareness with Archangels Empowerment" discounted 50% code is still valid.   Use code archangels to get the 50% off.

The empowerment works like magic, very fast and very effective.
Use code: archangels http://bit.ly/2fySgFb 

May we suggest:
| | | | |
| --- | --- | --- | --- |
| | | | |
| | | Protection Orgone Pendant | |