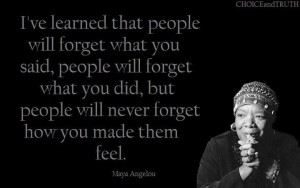 Just heard that Maya Angelou has passed.

I haven't studied her work in depth, but her words had inspired me. I knew deep in my heart she was a beautiful soul.

I felt sad, as I always feel sad when wise souls leave this dimension.

I asked her soul if I can communicate with her.

Soul said Maya has already chosen to share her work and spread her message via intuitive and mediums.
So as was ready to receive the information, I sensed a strong Spiritual energy came to my room.
I asked her soul for permission to post this. So it was a happy Yes!!! ,
This is what she said
I am very peaceful. I want you to know that.
I had a beautiful life know that I look back.
Sometimes life happens to you, like it happens to ALL of us.
I want you value your life and don't take it for granted.


My question to you is this:

What is your LIFE PURPOSE?

Many people ask this question.
Have you asked yourself this question? A lot of you don't ask this question.
Do you really know what is it?

I encourage you to spend time to THINK and Rethink THIS QUESTION.

It might be a major key to happiness in your life.

Find your purpose I say.
Don't wait to be happy. Be happy now by knowing what your purpose in life is. Be happy now and purpose comes to you.

Stay with the flow of Nature.
It has wisdom to share with you. Perhaps life purpose has to do with it.

Let go: you know what you need to let go of.
Grudges prevent you from being you.
Just choose to be Free.

I want to close with the word 'Aloha' – it has such tremendous peaceful energy.
Aloha and Be Well my friends.

Feeling very humble.
Peace Maya Angelou, beautiful soul.

Would like to close with Maya Angelou's powerful quote:

I've learned that people will forget what you said, people will forget what you did, but people will never forget how you made them feel."

Blessings,
Lilly Natures Blessings