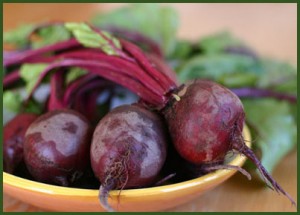 Beets are powerful activators and cleansers of blood and liver along with carrots.
They are amazing cancer fighters.
If blood is clean we think clearly and we have common sense.
Good food is spiritual food.
Beets are the root chakra activators; they keep us connected with Mother Earth.
They also stimulate heart chakra and help open ones heart. Beets were sacred to the Greek goddess of love, Aphrodite. Romans used beets as an aphrodisiac.  🙂
Beetroot was used in ancient times to cure fever, digestive disorders and constipation.
Beets help heal old wounds from the past.
Rudolf Steiner said that "eating beets at a Full Moon will kill any worms that one might have. The effects of the root of any plant are stronger during a Full Moon."
A fiend shared with us her story about vegetable and fruit juices that heal. Her sister was very ill with cancer.  She flew from USA to Europe to be with her sister and teach her about the power of juices.
She made fresh juices from vegetables and fruits for her sister, rotating them almost every day except one: Beetroots.
After a few months of juicing, her sister not only survived but is now cancer free, healthy and happy.
Beets assuming are organic, non GMO, have extraordinary powers: powers of healing, love and joy, as well as spiritual powers.
Blessings,